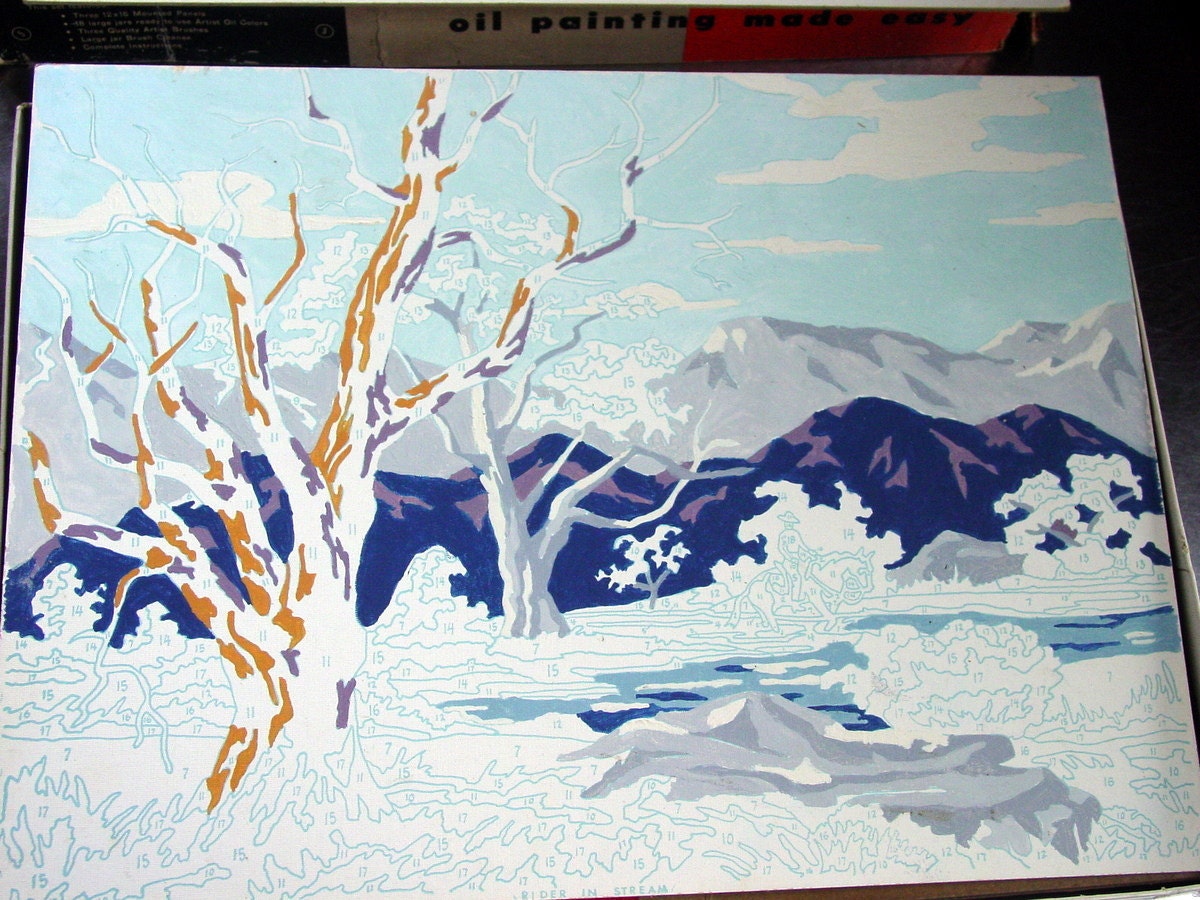 The middle one from above is partially worked on. I love the aqua colors.
Some paint by number sets I purchased today. Going to try to get Angelina and Aiden to help me with the paint by pages set. Thinking that would be a fun thing to do with them! The other ones, I'll attempt on my own. Thinking it might be good to practice using my arm again. I'll try it out.
I've always loved the simplicity of paint by numbers but do know there is much more tedious work involved than whipping out a painting of a landscape on canvas with my oils or acrylics. I remember my mother doing some of these types of paint by number landscapes many, many years ago.
Here is a portrait of the clown, Emmett Kelly, my mother painted when I was just two years old. It is not a paint by number, it's her original painting she did from a picture of him, that I think, was on the cover of T.V. Guide or some such thing. One day, I'd like to make a frame for it out of some old barn wood that I've whitewashed.
My mom was a smoker and when she gave this painting to me about 12 years ago, it was yellow with film. I cleaned it with my oil painting cleaner and cotton balls, I think I used over twenty cotton balls soaked in the solution. It sure brightened up after a gentle cleaning. This painting has always been my favorite of and she gave it to me because of that and also as a little girl I loved circus clowns. Thank you, Mom. I will always cherish this, my Emmett Kelly.
I can remember another favorite painting of mine that my mother did of a bunch (about five or six) white horses. They were coming out of some water and it was splashing all around them. It was beautiful. She painted it from a picture that was on the back side of a National Geographic Magazine back in the 1960's. My sister's sold it at the flea market for $30.00 and oh, our mother was mad about that one.
Another favorite painting of mine that my mom did was of a bull fighter. My Aunt Sandy has that painting. I love that painting and would love to see it in person again. Perhaps if I ever get a chance to visit my Aunt in Las Vegas I can do just that.